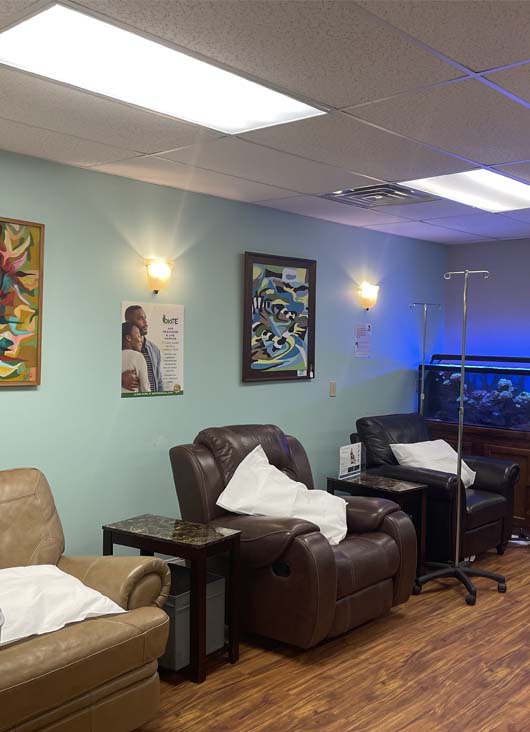 At The Medical Healing Center, we provide adult primary care with an emphasis on holistic medicine.  We utilize traditional allopathic medical treatments, as well as offer homeopathic, integrated, and complementary approaches.  We have been in practice for over 16 years and have many success stories with chronically ill patients.
We believe that one must integrate the mind, body, and spirit in order to achieve the best health state possible.  We take care of the "whole" person.  It is our belief that the combination of traditional Western or Allopathic medicine, as well as complementary and Integrative homeopathic treatments, can result in the best possible health outcomes.
We offer a holistic/functional approach to healing provided through integrative medicine. We shift the principal treatment focus away from symptoms to evaluating immunopathologies, functional imbalances, vitamin and nutritional deficiencies, genetic predispositions, toxic exposures, detox pathologies, the body terrain, and any occurring pathogenicity.
After many years in the traditional healthcare system as a Registered Nurse and seeing patients getting worse instead of better, Angela Myers opted to seek a more natural approach to healing.  After becoming an Advanced Practice Registered Nurse (APRN), she wanted to make a difference in chronically ill patients and knew traditional medicine alone was not working.  In 1999, Angela opened The Medical Healing Center to provide Tallahassee and surrounding areas with a truly holistic approach to healthcare.  A place that treats the whole person-mind, body and spirit. Where every person has individual needs and there is not a one size fits all mentality. We believe that each person should have individualized care. Our goal is to get each patient to their highest functioning state.
We are vastly different from a standard General Health care practice – we use everything from traditional medicine and integrative and complementary therapies to IV vitamin therapy and diet combinations. Here we treat the whole person, which helps to balance the patient mind, body, and spirit.

Angela is an APRN and has over 46 years of experience in the medical field.  She has worked in emergency, surgical, forensics, home health care, psychiatric medicine, Infection Control (infectious diseases), risk management, and academic settings. She completed the Nurse Practitioner (NP) program at Emory University in 1996. Angela also has extensive training and certifications in Infusion Therapy, skin care, and Public Health (communicable diseases).  She was a consultant in Infection Control and brought the first blood and body fluids protocol into the State of Florida while working at Tallahassee Memorial Regional Medical Center now called Tallahassee Memorial Healthcare. Angela is trained and certified by Dr. Shallenberger in prolozone injections and oxygen therapies. She is a certified expert witness as a Sexual Assault Nurse Examiner (S.A.N.E.) and assisted in writing the S.A.N.E program for The Refuge House and The Child Protection Team of Tallahassee.  She taught the first year general medical technician program at Branell College in Tallahassee.  Angela speaks for organizations and at local alternative medicine conferences on subjects such as Lyme disease, Chronic Illness and Women's Health Care. She is also intuitive when it comes to medicine. Angela is the owner of The Medical Healing Center.

Dr. Bolen is our consulting physician and medical director. He graduated  from the Wake Forest University School of Medicine in 1992 and specializes in Emergency & Sleep Medicine.

Celeste has been a Board Certified Family Nurse Practitioner for over 10 years.  She began her nursing career working in Labor and Delivery and the Newborn Nursery, after having obtained her initial RN at Tallahassee Community College.  She attended FSU for her BSN and Nurse Practitioner training (MSN), and recently became certified as a CDE (Certified Diabetic Educator). As a mother of 5 children, she enjoys Pediatrics and Young Adults, and at one time was even a LaLeche League Leader, helping her community in the art of breastfeeding. She specializes in Women's Heath, and Peri-menopausal issues including Weight Loss, but is very intuitive when it comes to Sports Injuries, Diabetic Management, Nutrition, Depression and Anxiety. She also enjoys procedures such as trimming ingrown toenails and removal of simple cysts, and closing minor lacerations.  She is credentialed in joint injection, and the administration of BOTOX for cosmetic and migraine prophylaxis. She believes in approaching wellness or preventative health, with each person individually, and utilized conventional medicine with naturopathic medicine.
Celeste is an avid swimmer, and also enjoys kayaking, playing tennis, and lazing around the pool. She is a voracious reader, enjoys experimenting in the kitchen, and paper crafting.

Elizabeth is a native of North Florida and was raised in nearby Monticello. She graduated with a Bachelor of Science in Nursing from Florida State University in 1995 and worked as a Labor and Delivery nurse for 3 years before returning to graduate school. In 2000, she graduated with a Master of Science in Nursing from Florida State University as a Family Nurse Practitioner. She is board certified through the American Academy of Nurse Practitioners.
Elizabeth worked as an APRN in Pediatric primary care for twelve years before specializing in the field of Dermatology where she worked for nine years. During that time, she obtained training and extensive experience in a multitude of cosmetic dermatologic procedures including neurotoxin and filler injections (facial contouring, cheek augmentation, lip augmentation and treatment of axillary hyperhidrosis). She performed microneedling and dermal infusion procedures as well as some limited laser treatments for photorejuvenation and treatment of vascular lesions. One of the things she most enjoyed was conducting cosmetic consults where she helped clients develop personalized cosmetic treatment and skin care plans based on individual needs and goals. Elizabeth is excited to join our practice where she will provide these services and looks forward to working with clients to set and achieve individualized aesthetic goals.
Using these procedures and services, she hopes to help clients accentuate the natural beauty that is already there by providing a subtle correction that "turns back the hands of time". She looks forward to educating clients about skin care as a way to "correct and protect" from sun damage and age-related issues. Her goal is to help clients feel refreshed and more confident in their own skin.
Elizabeth, "Liz" as she is known to her friends and family, resides in Tallahassee with her husband, Derek and their twin son and daughter. When not at work, she enjoys spending time with her family at the coast participating in all activities on the water, she plays tennis, enjoys weight lifting and cross training and is an avid reader.

The last eighteen years Eric has operated with his wife Angela, The Medical Healing Center, a holistic functional practice using integrative medicine. He has two Bachelor of Science degrees and is a certified Biofeedback Technician. Eric operates and teaches the QXCI/SCIO Technology. The QXCI/SCIO technology is utilized at the center to assist the health care practitioners in developing treatment plans for their patients, and for wellness, stress reduction, and energy correction.
Get in touch with us today to request an appointment or to speak to our staff.